Tui has announced more than 180 flight cancellations from Manchester airport until the end of next month as its customers caught up in the half-term travel chaos told of how their holiday plans had been ruined.
The travel company said it was axing six flights a day at the hub from 31 May until 30 June, adding to the chaos facing passengers at airports across the UK this week as they battle lengthy queues and canceled takeoffs.
Tui, which had already announced some flight cancellations and delays at the weekend, blamed "ongoing disruption in our operation at Manchester" for the "incredibly difficult decision" to cancel 43 flights a week.
Manchester airport said it was disappointed to see travelers' holiday plans disrupted by the move, which it put down to staff shortages at Tui and its ground handler Swissport, which manages its check-in and baggage handling.
Izi Vasileva, who lives in London and works as an area manager in retail, had a seven-day break to Marrakech with a friend canceled on Monday night. The 31-year-old said they arrived at Gatwick at 4pm for their flight but that it was delayed, canceled and then the entire trip called off.
"At around 5pm we found out the flight was canceled, but there was no representative from Tui at the airport; nobody really seemed to know what was going on. We got some food and wandered around Gatwick before ending up at a hotel at 9pm to get a flight the next morning, "she said.
Two hours later she was sent an email telling her that second flight was canceled too. "It was hard to hear as we booked this three years ago."
The holiday was meant to be a treat for her friend, an NHS nurse who worked long hours during the peak of the Covid pandemic. Vasileva said she would not book with Tui again.
Antony Myers and five members of his family, including children aged 7 and 4, ended up spending two days at Doncaster airport on Sunday and Monday, waiting for a delayed flight to Mallorca for a £ 5,000 holiday which was canceled.
"All in all a terrible experience with Tui," Myers said. "Having to explain to my two kids we weren't going on holiday was horrible, and they were crying their eyes out."
Chloe Prior, 27, from Macclesfield, was meant to be flying out to Mallorca on Wednesday from Manchester Airport with her fiance but received an email at 6.30am on Monday saying the flight and holidaywere canceled.
On Tui, she said: "They have just been blaming the airport and the airport are blaming the airline. I think if they had some sort of accountability then maybe people would feel differently about the situation."
Mike Dodgson, his wife, Jodie, and their sons Leo, 14, and Toby, 11, should have been enjoying a long-awaited family holiday in Antalya in Turkey with another family.
However, at Glasgow on Sunday, after a delay of almost five hours, they were told the flight, and then their entire holiday, were canceled.
"It was third time unlucky," said Dodgson, as trips booked with Tui to Tunisia in 2020, and Kos in Greece in 2021 were canceled as a result of Covid travel restrictions.
They were waiting at the gate when told their holidays were canceled "due to staffing reasons".
"There was a fair aggression in there as people did not want to hear that at all. There was a lot of children, ours included, who were in tears.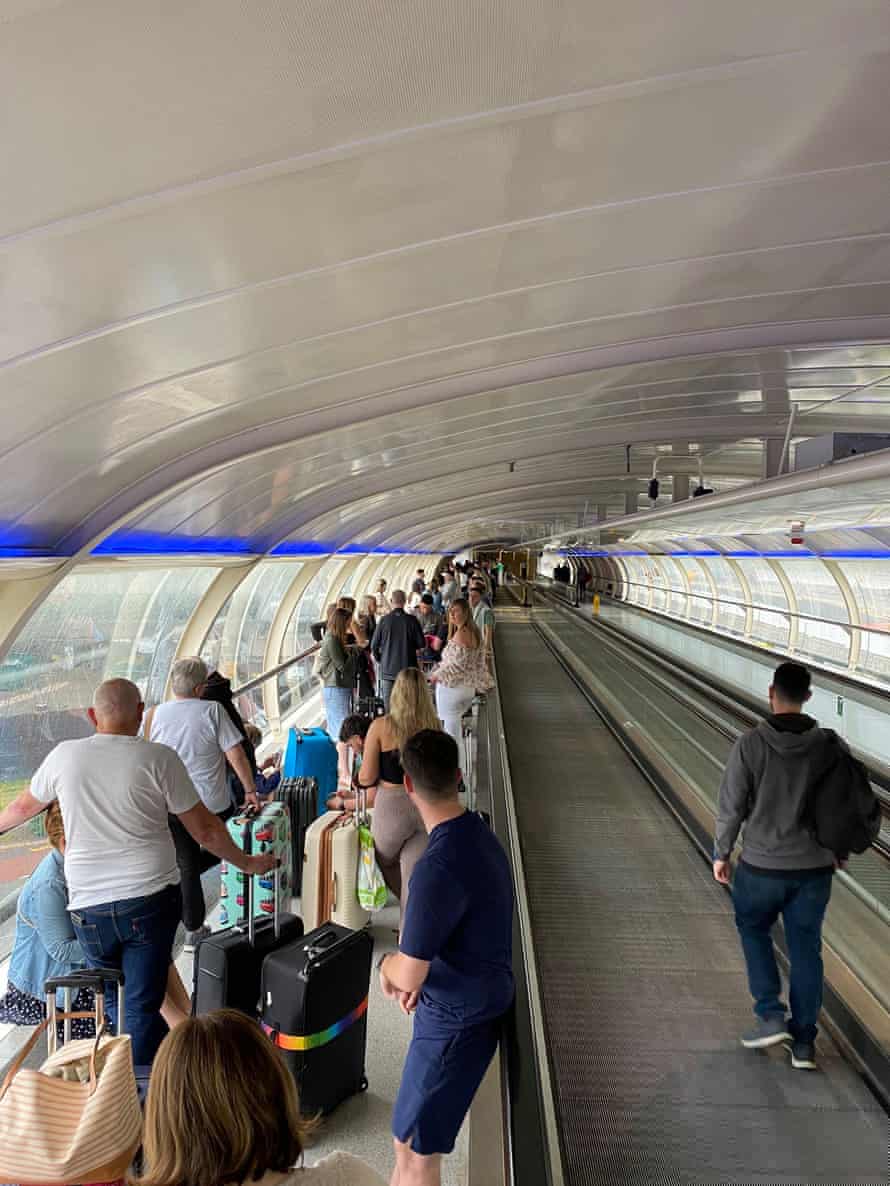 "I just can't believe this wasn't known before the day. There was a plane there and we were at the gate ready to go, we couldn't have got much closer."
The transport minister, Andrew Stephenson, told Sky News on Tuesday the travel industry should have been better prepared for a surge in post-pandemic holidays, adding that the disruption was causing "a lot of distress" to those caught up in it.
In a statement, Tui said: "We would like to apologise to our customers who have experienced flight delays and cancellations in recent days."